If you've been online at all today then you've probably seen either a press release, blog post, or tweet about Sony's announcement about their camera updates. These of course include the A77, the NEX7, and the VG20 to name a few.  Sounds like the things to get most excited about are their new 24 megapixel sensor and their OLED viewfinder.  The VG20, though looking pretty similar, features a few ergonomic changes but more importantly now includes 24P. For a more detailed breakdown check out this video from Sony.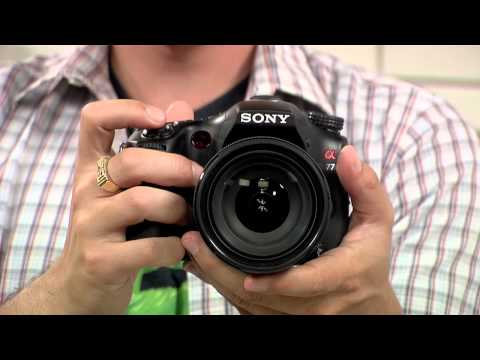 We were particularly excited about the press release as we've lent Sony Canada a variety of rigs from our Simplis line to try on the new cameras. The guys at Sony were pretty excited to find that the cameras adapted effortlessly to our support rigs.
I can't forget about the NEX7. Check it out on our Simplis Solo.
3rd pic from the show – NEX-VG20 again, this time in use.
2nd pic from Sony's announcement event – Sony's NEX-VG20 on our (slightly modified) Simplis Pro.
Check out the first photo from Sony Canada's Press Event. The A77 is looking pretty slick on a Simplis Rails kit with Follow Focus – almost as slick as that guy's suit!
And a thanks and a shout out to Rob, Patrick and the guys at Sony Canada for sending us the pictures.