I know new cameras come out every year but this year feels like the year for new cameras (I'm sure next year will as well…) On one hand, there's the prospect for a new toy, new technology and capturing a better image. On the other, the crushing realization that you now have an outdated camera and inferior image – ohhh bitter-sweetness. It's definitely been an exciting few weeks of announcements with more to come. In case you missed out, here's a breakdown of the new cameras and those speculated to be announced.
Canon recently announced the 1D X, the latest in their pro DSLR line. Although not the 5D Mark III everyone was hoping for it does offer some pretty impressive specifications (from Canonrumors);
Full Frame
18.1MP
Dual DIGIC 5+ – 17 Times The Processing Power of DIGIC 4
ISO 100-51200 Native
100,000 Pixel RGB Metering Sensor
EOS iSA (Intelligent Subject Analysis)
61 Point AF
21 f/5.6 Cross Type Sensors
20 f/4 Cross Type Sensors
5 f/2.8 Dual Cross Type Sensors
EOS iTR AF (Intelligent Tracking & Recognition Auto Focus)
12 Frames Per Second
14 Frames Per Second JPG Only
400,000 Shot Rated Shutter
Ethernet Connection
March Availability
Photographers should be drooling right about now. As a video shooter, I'm a bit less excited. Although there are some improvements to the video (new compression formats – ALL-I and IPB, which reduce some of the issues like moiring and an increased record time via file splitting when 4GB is reached) it's not enough for me to even consider upgrading. At the $6200 price tag I could just put that chunk towards a better video camera… which brings us to the next point – November 3rd.
Then there's the much hyped/rumored/blogged about announcement on November 3rd. Canon will be making the self proclaimed Historic Global Announcement. There is much speculation as to exactly what it will be (5D Mark III? New video camera(s)?) But one thing is for sure – wallets will cringe on November 3rd.
My first DSLR was the Nikon D70, so I have a fondness for the brand and always secretly route for them to make a come back in the HDSLR market. Nikonrumors was suggesting that Nikon would also be making an announcement in the near future (once rumored to be October 26th in fact) but recent disasters may have put that off indefinitely.
The Nikon D800 was rumored to have some impressive specs (36 megapixels!) but with a lack of info over the past few weeks combined with the flood information we might be waiting a bit longer.
Sony is long out of the gate with their press release from back on August 24th where they announced a variety of cameras (the NEX-7, the A65 and A77, and their updated camcorder the VG-20). The A77 is the highest end of the batch (in the DSLR category) and might compete with Canon's 7D and Nikon's D300. Since it's not in a rumor-status there's lots of information and reviews out there. This really positive review from popphoto.com actually puts the A77 above the 7D in some regards;
"The A77 now reigns supreme over APS-C format DSLRs. Neither Canon's EOS 7D nor Nikon's D300s can match the A77′s AF speed or resolution. While the Canon 7D does beat the A77 in its noise performance and holds more resolution at the highest ISOs, the A77 ultimately beats it for the overall package, including the video-shooting experience and the versatility of the articulated LCD."
Although it seems some Sony product might see limited availability (according to the above document, Sony factories are in the same situation as the Nikon factory), the A77 and other models have been out for a bit so you should be able to find a demo and try it out for yourself.
We're in a whole different league of cameras now with RED's Scarlet. Anything produced by RED is definitely a few steps above DSLR, and even though the Scarlet will be their most affordable model, it'll still be considerably more expensive than even the 1D X (Scarlet is speculated to start anywhere from $7,000-$13,000). Admittedly, I've given up following all the Scarlet rumors over the past…2 years? It seems like Scarlet was announced an eternity ago but we're now facing an actual material release. Coincidentally, RED will be releasing full details on the camera (including pricing!) and even starting preorders on November 3rd. Wait, isn't that Canon's big day? Well, depending on who you ask, RED choose the 3rd for their announcement first but you might as well figure out whether the chicken or the egg came first for all the good it'll do.
Okay, NOW we're in a whole different league. In case you hadn't heard, GoPro just announced the update to their insanely popular GoPro camera, the HD Hero 2. Coming in at the same price as the original Hero it offers a higher still picture resolution (11 megapixels up from 5) and some great new options for video including 120 fps, different field of view options, and a slew of Wi-Fi control possibilities. Check out GoPro for a full breakdown, and check our their amazing (as usual) demo reel with the HD Hero 2.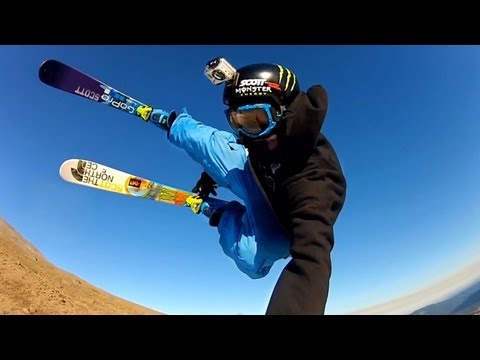 So there you have it. Naturally, I'll update as the big announcements take place to make this more complete. I also want to reiterate that this isn't a camera comparison, showdown or shootout but rather a breakdown of what's new and coming for those that aren't constantly tapped into camera news the way some of us are. For more in-depth coverage of each camera refer to the credited source and feel free to comment/correct/suggest below. Until then, enjoy the camera you have, 'cuz it's about to become obsolete.