In Part 1 of this series I spoke about NAS units, and the fact that Cinevate has four in service, some for as long as 5 years. In this installment I'll discuss why, as well as share some collaborative tips for folks new to the networking world.
Virtually every small business/studio has several workstations connected to an Ethernet switch to allow shared internet access and file sharing. In many of them, a few network shares on workstation hard drives are set up and that's it. Not having a server is cost effective, easier to manage, and might even be more reliable. My general recommendation for smaller networks under 10-15 workstations is to implement a server only if a solid business requirement exists for it. In fact, there is online evidence to support the observation that many have already moved to NAS units instead of a server. Of course, under the hood, pretty much every NAS on the market is a "server". The use of Linux on these NAS units (so no per-user or server licensing costs), a slick web interface, and solid hardware design addresses several major obstacles for small business. Power efficiency is always a consideration, and NAS units are typically designed with this in mind. The net effect is that there is no need for a dedicated IT person to manage a NAS, no extra costs in licensing, and operating costs are very low. Redundant disk systems (you have a spare, correct specification, hard disk handy, right?) mean that a single hard drive failure will not even be noticed by users. Replacing a failed drive can be done with the NAS powered up, and recovery is automated.
Backup and Disaster Recovery
I think every small business needs a NAS. Very few small businesses are prepared for a complete workstation failure, much less a disaster. In a connected office, one might argue that an even bigger threat is posed by viruses. Indeed, the single significant loss we've had at Cinevate was due to an encrypting virus that made its way into our network, and encrypted six months' worth of accounting pdf scans. This would normally have been just fine, but after the virus was cleaned, no one realized that all older scans had been compromised until 3 weeks had passed. The result was a total loss of these files.
In the corporate world, servers are generally backed up daily using LTO tape, either automated using a tape loader, or managed by IT staff. These resources are beyond most small business. Even when tape backup systems are used in small business they are rarely tested, or properly rotated, until a problem occurs. Fortunately there are many solutions like Acronis True Image and Storage Craft's Shadowprotect (my favorite) which are great solutions for home or business. Using a NAS, these programs can create a full and/or incremental image of each system over your network fully automated, and on completion run tasks, like shut down the workstation to save power. At backup completion, the software is set up to run a simple .bat file with this command:
shutdown.exe -s -t 300 -f -c
"This workstation will shut down in 5 minutes now that it is finished our daily backup. You can run the command 'shutdown /a' from the command prompt to abort shutdown"
Over a 10GbE connection and using a fast NAS, at 400MB/s you would back up 120GB of data in 5 minutes. Similarly, a bare metal restore (booting the workstation from a CD, or USB with the backup software boot environment) over the network could be similarly quick.
Programs like these can also manage retention, so any number of rotations can be automatically managed. In our case, we find four weeks is a good number, so any workstation can be restored back to any day within the last 30.
What about offsite backup?
We all know that offsite backup is a necessity in case of complete loss. QNAP (and most business class NAS units) have a growing number of backup options available from their web management interface, including cloud backup. Rsync is a simple, yet sophisticated backup option, particularly if you have one NAS unit at home, and one at the office. Rsync is capable of fully synchronizing files, between a local NAS and a remote NAS over an encrypted connection. Its efficiency lies in the fact that only changed bits within a file need to be transferred, not necessarily the whole file. Once Rsync jobs are defined using the simple NAS web interface, they can be fully automated on a given schedule, and set up for email notifications if they fail.
RRTR is another backup strategy that can completely back up your website files (let's assume they are hosted elsewhere) to your NAS, completely automated using simple connection methods like FTP. Assuming any databases are scheduled/exported at your web provider (using a CRON job) an RRTR backup strategy can completely back up your web presence. Is your web site backed up!!?
There are many more features enabled on NAS units, but local backup, rsync and RRTR can cover just about any strategy.
File sharing.
Having a NAS running 24/7 (and most can shut down and start up on schedules too), file sharing is perhaps the most obvious use of a NAS. A simple security scheme for small networks can be set up so your accounting files for example cannot be accessed by your marketing team. Shared folders can be quickly set up on your NAS, along with user IDs and passwords, and permissions to your shared folders. If the user IDs on the NAS happen to match windows user ID and passwords, a simple but effective access control can be established. Example:
Using your NAS web interface, create a user on your NAS with the login name "accounting" with password "dollar"
Using the NAS web interface, create an accounting folder on your NAS, and assign permissions to that folder for the user you just created.
Assuming your book-keeper logs into their windows workstation with the login "accounting" and "dollar", then only they would be able to access the NAS folder accounting. On the NAS you could add additional users (or remove them) as required.
In this manner, files can not only be shared, but also protected by access control. The QNAP NAS units have various logging options, including who has accessed what files, and when they have been accessed. You can also prevent specified IP addresses (like a guest workstation) from accessing the NAS completely.
If you happen to call Cinevate with a product question, your call would likely by answered by our Customer Service guru, Angela. Because customer service is so important to us, Angela needs instant access to a lot of information. Cinevate's entire inventory of product photos, pdf manuals and videos are available to her at 110 MB/s via our Netgear NAS, so she can retrieve and send out requests in seconds. Very often we'll get a request from an existing customer with a simple question that we know a video will clarify effectively. Angela will zip out on the production floor, shoot 45 seconds with her iphone, encode the video using Adobe Media Encoder and send this off to the customer. Having everything instantly accessible is a great efficiency for us.
Before 10GbE, all of our video projects were edited on specific workstations. When disk space was low, older projects would be copied to one of the NAS units to free up space. Moving forward, this will no longer be the case, so video projects will live on the NAS units, and be instantly accessible to any of our staff here that needs access. This is a fairly straight forward strategy where a network drive, let's say Z:, is mapped from each video editing workstation to the same NAS folder. The Adobe CC project files, source files and preview files are all stored on this NAS folder, and edited just as if stored on a local drive.
All new product designs at Cinevate start off on a dry-erase white board, then make their way into Solidworks design software. All drawings are stored on a secured NAS so that they can be accessed from various workstations. We do finite analysis in many cases to establish load limits etc, then prototype typically with an Alaris 3D printer. These same Solidworks files are used to create our quick start guides by our graphics crew…again accessed all from the same NAS. This ensures the team is all looking at the same versions across the board between design, CNC machining, prototyping and graphics design. Cinevate's Axis jib was our first product launched 2 years ago, completely designed, load tested, prototyped and graphically processed using the above workflow:
NAS manufacturers like QNAP include a growing collection of Apps in their latest NAS offerings, including XBMC (your NAS essentially doubles as a home theater computer). Videos, audio, and photos (including RAW photos in many cases) can be output from the NAS using an HDMI connection to an HD projector or screen. So for a small studio, this ability may be useful where the NAS can double as a screening tool. There are a myriad of other options, from VPN gateways, to Asterisk servers. For those looking to "test drive" a NAS, you may wish to check out a few simulators that replicate what you would see via a web browser when administering a NAS unit.
Netgear:
http://www.readynas.com/simulators/frontview/home.htm
Thecus:
http://www.thecus.com/sp_livedemo.php
QNAP:
http://www.qnap.com/useng/index.php?lang=en-us&sn=3543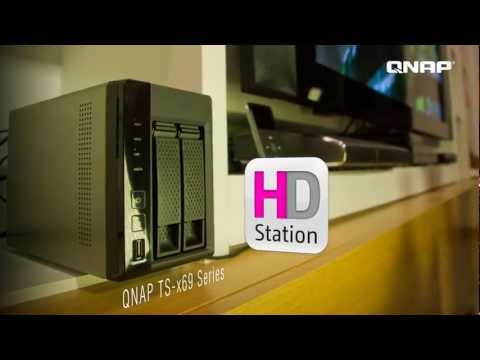 The next blog section will peek under the hood of arguably the most significant technology to push network speed and efficiency forward, namely Microsoft's SMB3 implementation found in Windows 8 and 2012 Server. We'll follow that with details of our affordable Adobe CC workstation, and 1000MB/s 2012 Server build. Both of these builds are the results of the extensive testing blitz that led to this blog series. Stay tuned!